Walmart Values of the Day: Hyper Tough Toolkit for $17.65 or Chromebook for $129!
Here is today's Walmart Value of the Day!  You can get a Hyper Tough 86-Piece Roll-Up Tool Kit for $17.65.
Here are the details:
The Hyper Tough 86-Piece Roll-Up Tool Kit comes with everything you need to effect most home repairs. You get a claw hammer, a tape measure, scissors, 22 hex keys, a bit driver and 30 bits of various heads and sizes, two 3/4-inch spring clamps, 10 cable ties and four precision screwdrivers for electrical or other work. It also comes with a ratchet and 18 various drive sockets and 32 fasteners in a plastic case. This home tool kit rolls up into its bag for handy storage. It's small enough that you can keep it in the kitchen, bedroom, living room or elsewhere unobtrusively and have tools on hand whenever a repair situation arises.
Hyper Tough 86-Piece Roll-Up Tool Kit:
6" long-nose pliers
6" adjustable wrench
8-ounce claw hammer
10'/3M tape measure
Home tool kit has scissors
18 1/4" drive socket

SAE: 3/16, 1/4, 9/32, 5/16, 11/32, 3/8, 7/16, 15/32, 1/2"
Metric: 5, 6, 7, 8, 9, 10, 11, 12, 13mm

1/4" ratchet handle
4 precision screwdrivers, Phillips: #0, #00, slotted: 2.5mm, 3.0mm
32-piece fastener set with plastic case
10-piece cable tie
Two 3/4" spring clamps
Bit driver
30 1" screwdriver bits

Slotted: 5/32"(2), 3/16"(3), 1/4", 1/8"
Phillips: #1(2), #2(4), #3(2)
Star: T10, T15, T20, T25, T30
Square: S1(2), S2(3)
Hex: H5/64, H1/8, H5/32, H3/16, H1/4

22-piece hex key set
1 hand tool kit storage bag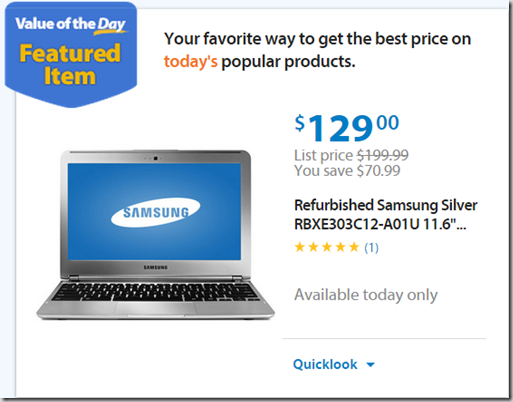 Here is today's other Walmart Value of the Day!  You can get a Refurbished Samsung Silver RBXE303C12-A01U 11.6" Chromebook PC with Samsung Exynos Processor, 2GB Memory, 16HD Hard Drive and Chrome for $129.00!
Here the details:
Samsung Chromebooks are a new type of computer from Google and Samsung. Chromebooks look and feel like laptops. The powerful processor delivers exceptional performance and battery life in ultra-slim form factors. And since they're from Samsung, reliability and image quality are outstanding. Simple and intuitive to use, Samsung Chromebooks give students and teachers access to the educational apps and resources of the web to help extend learning.
Refurbished Samsung RBXE303C12-A01U 11.6" Chromebook PC:
Key Features and Benefits:
Samsung Exynos 5 dual-core processor
1.7GHz, 1MB Cache
2GB DDR3L SDRAM system memory
Gives you options for surfing, video conferencing, documents, basic photo editing and simple computer tasks
16GB SSD hard drive
Store 10,667 photos, 4,571 songs or 8.4 hours of HD video and more
802.11a/b/g/n Wireless LAN
Wirelessly connect to a WiFi signal or hotspot with the 802.11a/b/g/n connection built into your PC
11.6" LED HD screen
Additional Features:
1 x SD card reader
1 x USB 3.0, 1 x USB 2.0, 1 x DC-in, 1 x HDMI, 1 x headphone/microphone
Battery life: 7 hours
Software:
Chrome OS
Built-in Google products like Search, Gmail and Docs
Support and Warranty:
1-year standard parts and labor warranty
What's In The Box:
Power cord
Battery
Quick Start Guide
Remember that with almost any online shopping, you can go through Ebates or Mr Rebates to get an additional cashback rebate.