People always ask how to make the most of the products they coupon. This week we are giving you a great recipe built around price matched products. This week we are going to feature Tuna Cake Po'Boy's. Reminiscent of the yummy shrimp or crab cake po'boys found in New Orleans this is also a great recipe for Mardi Gras as it is "bite sized" and could double as a fabulous appetizer.
We will be using the following items featured in the Walmart Price Match list for this week:
Bumble Bee Chunk Light Tuna $.89 a can when you price match Walgreen's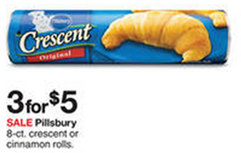 Pillsbury Crescent Rolls $1.67 a can when you price match Target
Use the $.40/2 printable coupon for Pillsbury Crescent Rolls
Final: $1.47 each
TUNA CAKE PO'BOY'S
INGREDIENTS
2 Cans Bumble Bee Chunk Light Tuna (drained)
1 Teaspoon Garlic Salt
½ Teaspoon Onion Powder
¼ Teaspoon Cajun Seasoning
1/8 Teaspoon Celery Salt
1/3 Cup All Purpose Flour
1 Can Pillsbury Crescent Rolls
1 ½ Tablespoons Vegetable Oil
Tartar Sauce
¼ Cup Mayonnaise
2 Teaspoons Spicy Mustard
½ Teaspoon Garlic Powder
1 Teaspoon Dill Pickle Relish
DIRECTIONS
Cook Crescent Rolls as directed on package
In small bowl mix together tartar sauce ingredients. Refrigerate until ready to use
In medium bowl mix together tuna, garlic salt, onion powder, cajun seasoning and celery salt.
Mix in approximately ¾ of the flour. This should form an easy to scoop mixture
Form into 1 inch balls.
Dip into remaining flour lightly coating each "ball".
Heat vegetable oil in medium to large skillet
Flatten balls and place in skillet cooking 3-4 minutes on each side or until golden brown and crispy
Remove from heat and drain on paper towel
Slice crescent roll through center creating a "bun".
Place 1 teaspoon tartar sauce or preferred condiment on "bun"
Place 2 small cakes in bun and add lettuce or tomato if desired.
Serve.
These are always a hit with the kids because they are like mini sandwiches. We love using these crescent rolls as an alternate bun for the mini sandwiches and the tuna cakes are a tasty treat that is not only price effective but easy and quick for a fast evening meal or fun lunch. Served with a side salad or fresh vegetables this meal can easily cost under $5 for a family of 4. Serving size of 2 sandwiches per person.