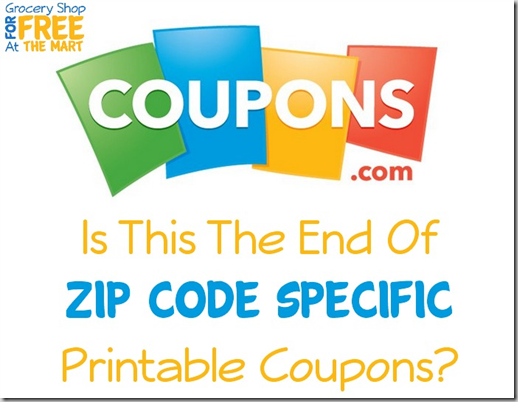 Tis a sad day indeed for all us couponers.  Coupons.com has removed the little box that allows you to change your zip-code to see the different coupons available in different areas.
Here's is what it looked like yesterday.
Now it's more like this.
So we are all pretty much stuck with our home zipcode from now on.  There is a work-around but it's so stupidly complicated that I can't imagine anyone will do it unless there is just an incredible must-have coupon.
In case you want to do it, you will need to go to Coupons.com, log in and then change your profile to the state and zipcode you want to print from, then grab your coupon.  A pain in the rear to be sure.
Hopefully this will end but as of right now, it appears to be permanent.
Thanks to Coupons in the News for the heads up.
The 21 Day Grocery Budget Bootcamp ebook is here! Now you can learn how to save money on your groceries quickly and easily. Click here to get your copy!