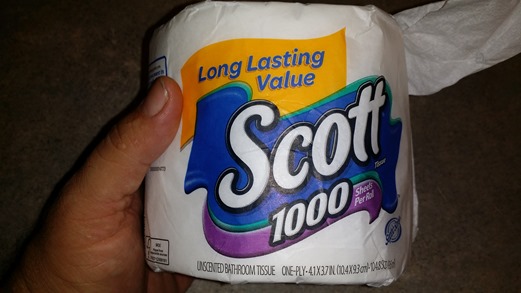 So I used SavingStar  for the first time at Walmart and got my FREE roll of Scott Tissue.  Here's what I learned.
#1  SavingStar is a very easy app to use and is virtually identical to Ibotta, Checkout 51 or Shopmium.  You will scan the barcode of the item you bought, then take a pic of the receipt.  (Use the little receipt icon on the top menu bar to get to the picture mode.  It did take me a few minutes to find that.)  Once I accrue $5 in rebates, I can send it to my PayPal or bank account or get an Amazon eGift Card.
#2 The Friday FREEbie is awesome.  Who doesn't like FREE stuff?  I saved the rebate to my SavingStar account on Friday but actually had until Sunday to go buy it and scan my receipt.  So every weekend, as long as you hit the "I want that" button on Friday, you have the whole weekend to actually get to the store to buy it.  Just be sure to scan that receipt in before Sunday night.
#3 Scott single ply tissue paper is perhaps the worst toilet paper ever made.  It's like our country's first attempt at toilet paper from 200 years ago that is inexplicably still available.  God bless the person who invented 2-ply technology because this single ply stuff is a good way to give yourself an accidental prostate exam on every wipe.
In case you are interested, here's a list of all the Smartphone Apps I use to save money at Walmart.