Walmart Price Match Recipe: Chicken Fried Rice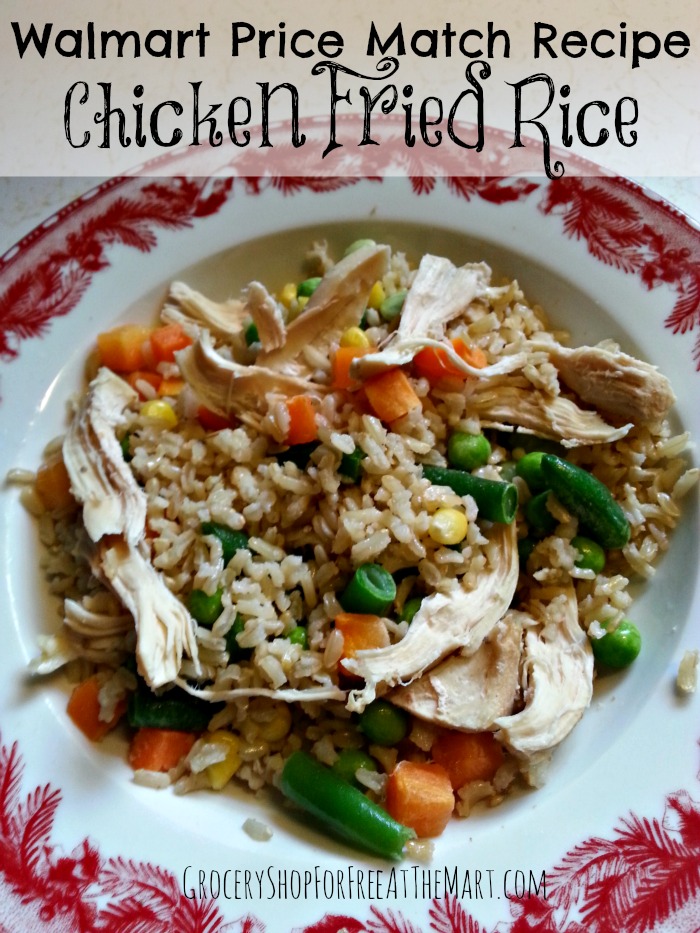 Walmart Price Match Recipe: Chicken Fried Rice
We are always looking for easy recipes that are inexpensive and tasty and this week we turned to one of our favorite meals to throw together.  This Walmart Price Match Recipe Chicken Fried Rice is a great weeknight meal that is super easy to throw together and helps stretch your budget farther.  If you have a rice cooker it makes this even easier since you can simply toss the rice and chicken broth in your cooker, set it and forget it until right before dinner.
This week we are using the following Walmart Price Match items:
Chicken Drumsticks $0.99 lb. Price Matched To Albertsons
French's Worcestershire Sauce $0.88 Price Matched To Albertsons
WALMART PRICE MATCH RECIPE: CHICKEN FRIED RICE
Walmart Price Match Recipe: Chicken Fried Rice
Prep time: 30 mins
Cook time: 45 mins
Total time: 1 hour 15 mins
Ingredients
1 Pound Chicken Drumsticks Cooked & Shredded
1 10-12oz Bag Frozen Mixed Vegetables
2 Cups Brown Rice
2 Cups Low Fat Low Sodium Chicken Broth
2 Cups Water
1/4 Cup Low Sodium Soy Sauce
1 Tablespoon Worcestershire Sauce
2 Teaspoons Ginger
2 Teasponns Garlic Powder
1 Teaspoon Black Pepper
Instructions
In large stock pot, bring rice, chicken broth and water to a boil. Reduce heat and simmer covered for 20 minutes stirring occasionally.
Reduce heat to low and mix in shredded chicken, vegetables, soy, worcestershire, ginger, garlic and black pepper and stir.
Cook for 5-7 minutes over medium heat until all flavors have combined and everything is heated through.
3.2.1310
This easy Chicken Fried Rice is a quick and simple meal to make on any weeknight.  The addition of Worcestershire sauce gives a hint of smokiness and depth of flavor that makes up for the lack of actual "frying".  With no oil and no frying, it is a healthier yet still tasty alternative to traditional fried rice.  For an even quicker meal, you can use an already cooked rotisserie chicken from your local grocery store.