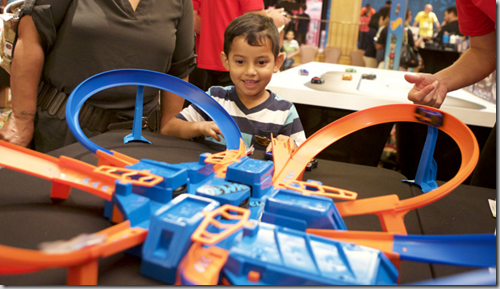 It's already getting close to the Holiday season and Walmart has just announced new info about their Holiday Layaway program and the 25 Hottest Toys of the season!
Layaway
Walmart's layaway program begins Sept. 2 allowing customers to get a head start on holiday shopping. This popular servce offers customers the opportunity to stay on budget, keep gifts hidden until the holidays or pay over time. Customers can find all of the top toys available to reserve through the layaway program, along with thousands of other items in Walmart stores.
There is no opening fee for customers to start a layaway account and they only need to put down 10% (or $10, whichever is greater). Walmart has kept its minimum threshold again this year. Customers can put items as low as $10 on layaway with a $50 minimum basket. Customers have until Dec. 12 to pay off their account.
Toys
Based on the Chosen by Kids list, Walmart has an idea of just who is asking for what …
The Boss: Your child can't wait to start their own business? These toys are perfect for the little entrepreneur in your life. Top entrepreneurial toys include:
The Humanitarian: Kids love to take care of others and with these toys they can put their skills to the test. Toys that make this list include:
The Dreamer: Playsets and toys that give kids the opportunity to create their own story and put their imagination to work. Frontrunners for imagination are:
The Thrill-Seeker: For the thrill seeker, these toys allow kids to take an adventure right in their own homes. Topping the list of adventurous toys are:
Mr./Ms. Independent: Sibling not home to play? These toys are a perfect way to keep kids entertained for hours by themselves. Top independent toys include:
The Chosen By Kids list is just the beginning of Walmart's season-long celebration of toys. Beyond the top 25 toys, Walmart will have thousands of toys to choose from available both in Walmart stores and on Walmart.com.
Remember that with almost any online shopping, you can go through Ebates or Mr Rebates to get an additional cashback rebate.