How I Used Walmart Family Mobile To save My Tax Return Money!
Disclosure: This shop has been compensated by Collective Bias, Inc. and its advertiser, Walmart Family Mobile. All opinions are mine alone. #YourTaxCash #CollectiveBias
A few weeks ago I told you about my new Samsung Galaxy On5 I bought and put on the Walmart Family Mobile Plan.  I bought it with my tax return because it's a great way to save money and make your tax return go farther.
I love the Walmart Family Mobile Plan because you get Unlimited* Talk, Text, & Data which (*includes up to 10GB of 4G LTE then 2G) and a free movie credit on VUDU every month ($7 value) for $49.88 per month, per line. The Samsung Galaxy On5 phone itself was just normally $119.99 but on RollBack right now for $69.99 and since Family Mobile bills you later, you only have to pay $19.88 when you sign up..  It has totally allowed me to make my tax return go so much farther.
Disclaimer: All prices for phones and plans included in this post are accurate as of the date of posting; however, these prices are subject to change. Please refer to http://cbi.as/7e-jr or your local Walmart for current pricing.
That big bucket of data allows me to do everything I want to do like play my games, read my emails and watch my free VUDU movie each month.  In fact, I had a chance to have a little ice cream sundae movie night with my granddaughter, Little Bit.  We don't eat sugar so we have to pretty much hand-make all the ingredients for an awesome sundae so I wanted to share with you what I do and how I do it.
First up, the ice cream.  Here's the ingredient list.
½ cup heavy cream
½ cup almond milk
1/4 cup Stevia or sweetener of choice
3 large egg yolks
1 tsp vanilla extract
1/2 cup blueberries
Here's what you do with it.
Place cream, almond milk, and sweetener in small pot to simmer over low heat.  Don't let it come to a boil, you are just trying to warm it up a bit.
Whisk egg yolks and vanilla extract in separate bowl
Ladle some of the warm cream mixture into the eggs to warm them up.  You don't want the eggs to scramble in the cream mixture
Pour egg mix into pot with cream mix and whisk continuously to avoid the eggs congealing and scrambling
Pour mix into ice cream maker and mix until hard
About 5 minutes before totally hard, mix in blueberries.
It takes about 30 minutes to make but it's easy enough to make that you and a toddler can do it together and have fun watching it mix.  Little Bit poured the blueberries in and helped taste test it along the way.
Next we had to make Magic Shell.  I have always loved the chocolate sauce that gets hard when you put it on ice cream but it's impossible to find a sugar free version so I had to figure out how to make it myself.
All you have to do to take 2 Tbsp of coconut oil and microwave it for about 20 seconds to melt it.  You want it to be just barely melted but not really hot.  Then mix in a Tsp of cocoa powder and stevia until it's sweet enough for you.  It tastes awesome and hardens as soon as it hits the cold ice cream.  It's awesome so have something crunchy in your ice cream.
Next is whipped cream but this is easy to make.  1/2 cup of Heavy whipping Cream and a squirt of stevia and then throw it in the blender for about a minute until it peaks but be careful, if you do it too long it turns into butter.
Then I bought some sugar free caramel sauce at the store because if you already have chocolate and blueberries, you might as well throw some caramel on there as well.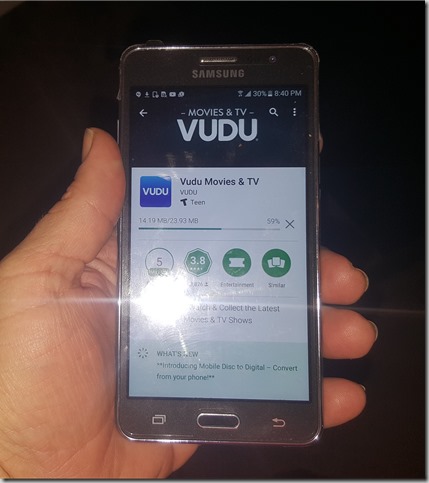 Then I just fire up the VUDU app and cast my free movie to my TV through ChromeCast and Little Bit and I get to curl up on the couch and watch something animated with a princess.  I would prefer something with explosions but the time spent with her was worth the sacrifice.