There are several new coupons available for movies.  Print 'em and get ready for movie night!
Transformers: Age of Extinction 3 movie kit with bonus figurines is $24.96 or the kit with just the movies is $19.96 at Walmart
     Use the $5.00/1 printable coupon for Transformers: Age of Extinction
Final: $14.96 or $19.96
Here are a few other movie coupons also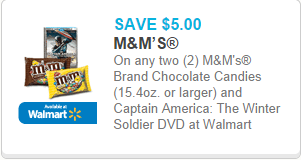 On a mobile device? Click here, select the coupons you want and click the "Email to Print" button to email the coupons to yourself so you can print them later!
Looking for more FREEbies? Click Here!