This is a Sponsored post written by me on behalf of White Cloud for SocialSpark. All opinions are 100% mine.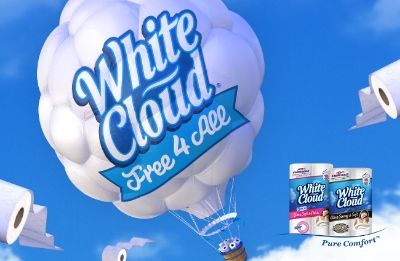 So toilet paper is toilet paper, right?  I think we all know that's not even close to right.  I vividly remember the day I learned that not all TP is created equal.  I was a new couponer and got what I thought was a good deal on a brand that will remain nameless.  I was thrilled until I actually tried to use.  Each sheet was so thin you could see right through it and so flimsy that every wipe was an adventure, and not in the good way!
Well since then I have learned my lesson and have put toilet paper on my list of products I will be very discriminating about when I decide to buy.  Luckily there is a great new premium brand on the shelves exclusively at Walmart that is not only a great product but a fantastic deal also.  Here's the deal breakdown.
White Cloud 3 ply bath tissue 4pks are just $1.97 at Walmart
Use the printable coupon for a FREE 4pk of White Cloud 3-ply bath tissue available on their Facebook page
Final: FREE!!
It doesn't get any better than FREE!  This toilet paper is the best I've ever used and there are multiple ways you can save money.  The first is the FREE 4pk they are giving you to try, the second is the 3-ply thickness and softness means you use less every time you use it and the third is this brand is always cheaper than competing brands.  In fact a 16pk of White Cloud costs about as much as a 12pk of Cottonelle or Quilted Northern.  That's 33% more toilet paper for the same price!
Pick up your White Cloud "FREE 4 All" coupon now by sharing the coupon on your FaceBook or Twitter channels.  If you do not want to share then you can still get a $1 off coupon and you can also follow them on FaceBook, Twitter, or Pinterest.  You can learn more about White Cloud products here and find the store closest to you that sells it here. So try it it out and tell me what you think.  Dare to compare White Cloud with Cottonelle, Quilted Northern or your favorite brand and tell me your opinion in the comments below!
Follow White Cloud on Pinterest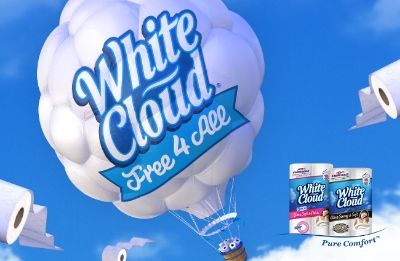 Disclaimer: Limit One (1) Coupon Per Purchase. White Cloud® Bath Tissue is only available at Walmart stores. No facsimiles or reproductions. May not be sold or transferred. Must present coupon at time of purchase. Any other use constitutes fraud. Valid only in USA. Void where prohibited, taxed or restricted. Case value 1/100¢.  I was compensated for this post but all opinions are mine.White Cloud