Ask a Walmart Expert: Will Walmart Price Match Amazon, Walmart.com or Other Online Stores?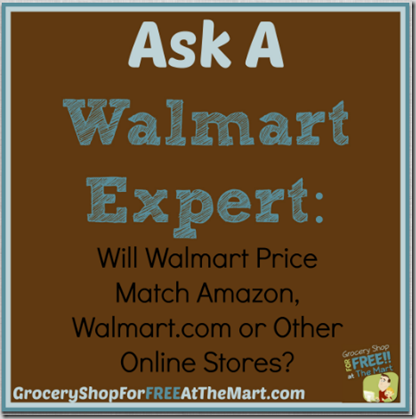 Here's another entry in our Ask A Walmart Expert series.
Will Walmart Price Match Amazon, Walmart.com or Other Online Stores?
Since starting this blog I have been contacted by readers many times with questions about couponing, Frugal Living, Walmart's policies and procedures, and various other little things.  I figure if one person is wondering about it, there might be others so this will be an on-going feature to answer the most common questions that come up.  If you have a question, add "PastorAarn" on Skype or email me at groceryshopforfreeatthemart [at] gmail [dot] com.
Short Answer? No.
UPDATE:  Almost everything in this post is changing.  There is a new Beta program where Walmart's in some areas WILL price match online retailers.  Details are scarce but you can read about what we know here.
2nd Update: Everything in this post is now wrong.  Walmart will now price match almost any online retailer.  The details are here and a short video showing how to do the price matching is here.
Walmart will not ad match any online price if it is only available online. (like Amazon)  If an item is also sold at a local brick and mortar store and is featured in their weekly ad, then they will gladly do it.
One big thing to keep in mind is it has to be exactly the same item for Walmart to match and on big ticket electronics items, Walmart will frequently change the model number to a Walmart-specific number (Usually by adding WM to the end) so it cannot be price matched from anywhere.
You might think it a little odd that your local Walmart won't even price match Walmart.com but that is the rule so don't expect them to do it.  Walmart considers Walmart.com and totally separate entity from their brick-and-mortar stores.
On a totally unrelated note, my son wanted some fancy headphones and a large micro SD card for his new phone so he asked me to take him to Best Buy.  As he was picking out his headphones, I scanned the barcode and looked at the price on Amazon.com and they were significantly cheaper.  As I was trying to convince my son to just go home and let me order them an employee came over and told us that Best Buy WILL match Amazon.  My son saved over $70 on both the headphones and the micro SD card.  I was a happy camper!
UPDATE: Any time you write something about Walmart's policies it needs to be pointed out that there is a difference between the official corporate policy and what actually happens in your store.  Walmart policy enforcement is like something out of the Wild West with nearly everything being up to the Store Manager's approval.  In other words, if you would like to price match something, ask.  Chances are you will be told no, (as you should be) but every once in a while you can find a Manager in a good mood and get what you want.  I personally have NEVER seen it happen and I have only heard of one reader (who works at a Walmart, read the comments) tell me their store does it.