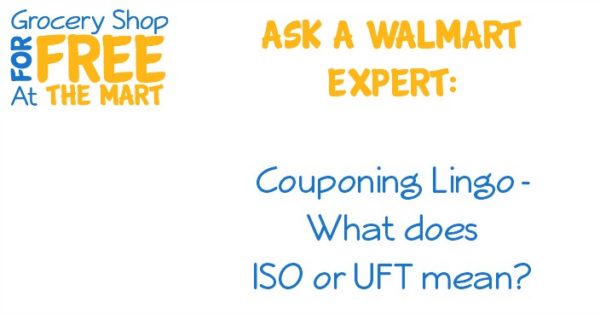 Since starting this blog I have been contacted by readers many times with questions about couponing, Frugal Living, Walmart's policies and procedures, and various other little things.  I figure if one person is wondering about it, there might be others so this will be an on-going feature to answer the most common questions that come up.  If you have a question, please check out the master list of Ask A Walmart Expert articles to see if your answer is there already or contact me and I'll do what I can to help you out.
Couponing Lingo – What does ISO or UFT mean?
If you are ever in a forum or FaceBook room with other couponers, you will usually see the abbreviations UFT or ISO.
UFT means "Up For Trade".  This means that the couponer has a coupon or coupons that they would like to trade, either for money, stamps, or other coupons.
ISO means "In Search Of".  This means the couponer is looking for a specific coupon.  If you have it, reach out and see what they are willing to give for it.